Just the Business's first son claims championship
It was a good day at Kilmallock for Mercury again this April with new stock bull Luddenmore Just the Business's first born calf going on to to pick up the overall championship. The bull Mercury New Tinge born March 2016 was out of the best breeder on the farm
Mercury Fab Tinge
. Along with breeding New Tinge she has bred Mercury Lovely Tinge first prize winner at the National calf show and Mercury Knight all-Ireland and national champion along with claiming the reserve overall title at the Elite sale before selling for €4,000 at 11 months. Unfortunately New Tinge failed to meet his reserve on the day, however he was later sold at home to a pedigree breeder.
Just the Business sired three calves the end of 2016 two bull's and a heifer, with the heifer retained the other bull Mercury Nice Tinge went on to make one of the top end prices at the premier sale also at Kilmallock in April. All of the herd calved down to him this year with a few very promising prospects.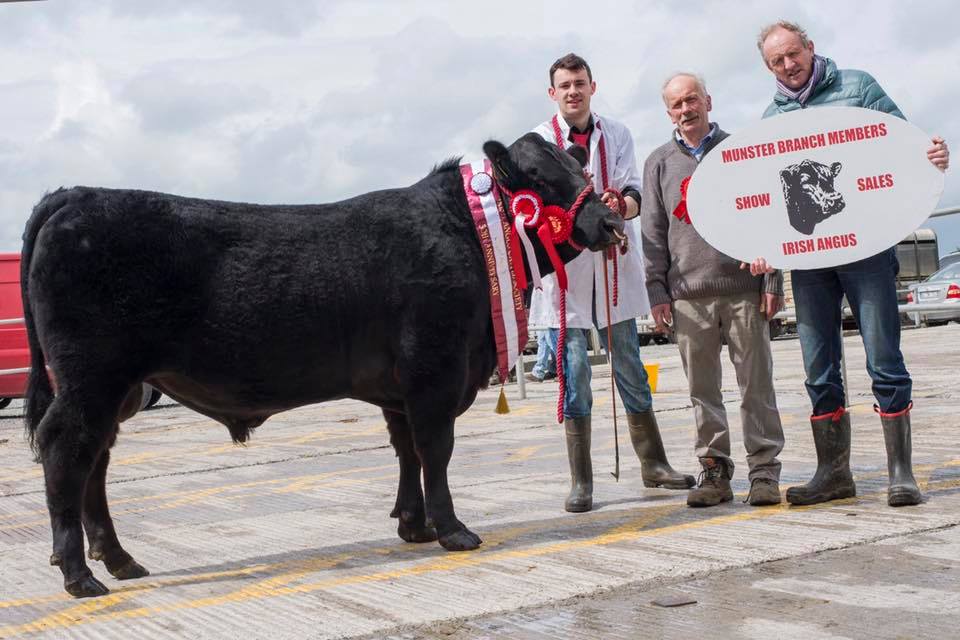 Double champions for two years running
For the second consecutive year Mercury Angus has claimed top spot in both the Male and Female sections at the Munster Irish Angus Branches Premier Show & Sale in Kilmallock this April. This makes it six times we have won Overall Championships in the last five years, claiming the Female championship the last three years running and the Male championship the last two years along with 2012 also.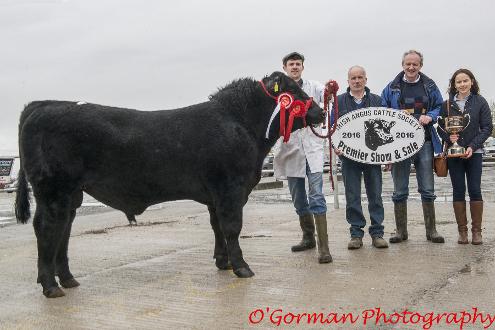 Claiming the Male Championship was Mercury Lord Tinger, this was the first born son of stock bull Friarstown Paddy Pershore. Dam was from one of the herds favourite lines, the Evening Tinges and was sired by imported bull Wedderlie Net profit. Lord Tinger stood at 800kg's and held the joint highest Terminal index value of the day, he sold to a local dairy farmer for the top sale price of €3,150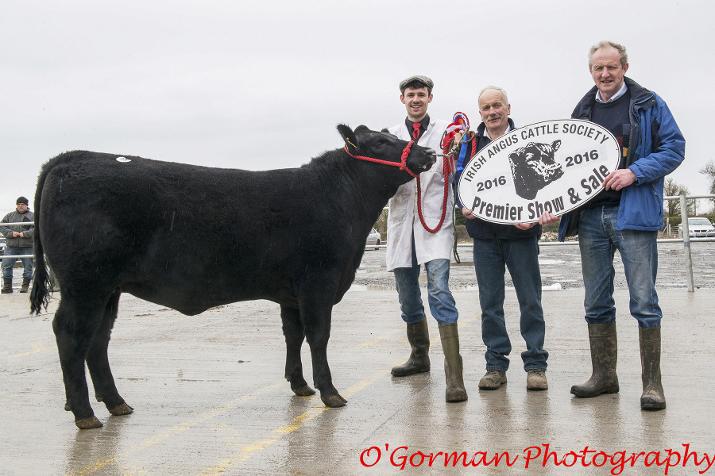 Female champion Mercury Miss Jay, was sired by stock bull Knockoneill Figo who also bred the Male champion at this sale last year. Dam was only two years old when she had Miss Jay and is sired by former stock bull Friarstown Idol who already bred the overall and reserve female champions at the Premier in 2014 as well as the overall male in 2012. Miss Jay also recieved top bid of the day and went to local pedigree breeders Tadgh and Tim Cronin of Roskeen, Co. Cork.
_________________________
Mercury Lord Jet finds new home at
Elite Show & Sale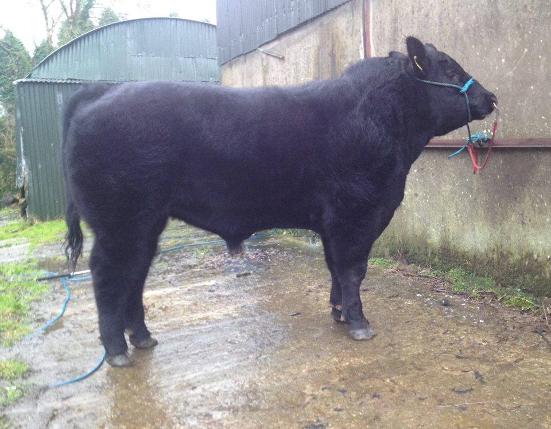 *Lord Jet pictured at under 12 months before the Elite sale
Lord Jet enjoyed an incredible show season where from his only three outings he picked up Reserve Overall Junior All-Ireland Champion at Cork show, Reserve Overall Junior Male All-Ireland Champion at Strokestown show and 1st at the National calf show held in Tullamore.
Finishing off his career at Mercury he also clinched a red rosette at the Elite Show and Sale in Carrick-on-Shannon before being sold to Kildrommin Angus for €4,500. This is Kildrommin's second Mercury bull from and we would like to wish them continued success.
This was the first son of stockbull Friastown Paddy Pershore to hit the market, so great hope lies in store for his comrades who are available for sale this Spring.
Lord Jets dam is pictured below along with Lord Jet after his first win at Cork show at only 7 months.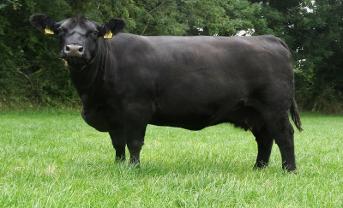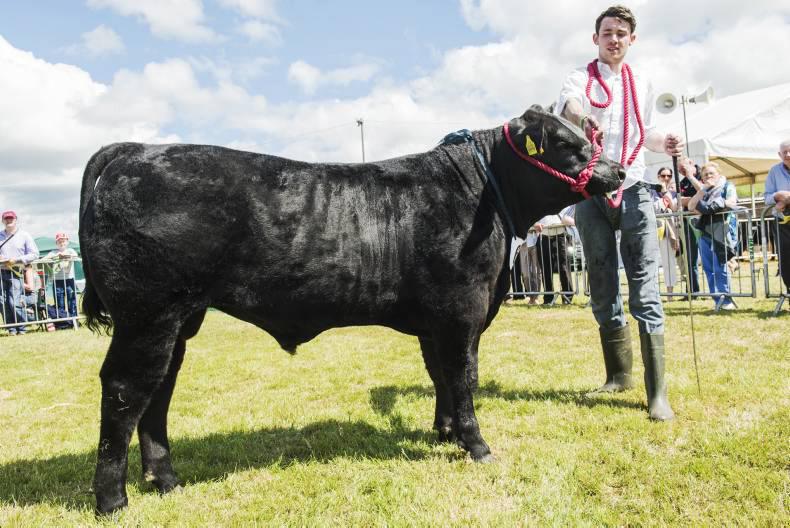 Mercury Angus take the double at
Premier Show & Sale
Mercury King Maker and Mercury Lovely Tinge our only two entries on the day went on to claim both overall top spots at the Premier Irish Angus Show & Sale, Kilmallock in April.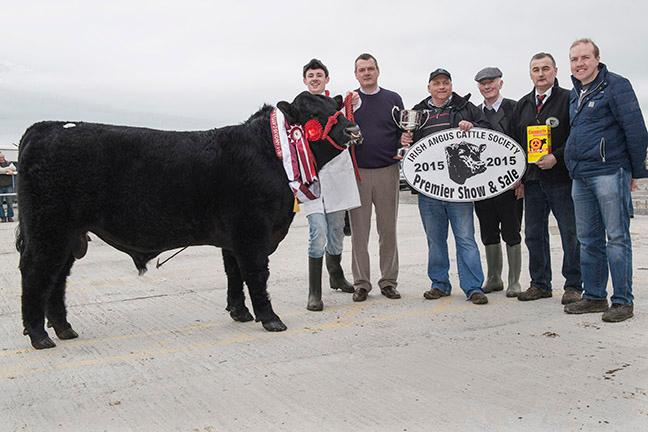 Mercury king Maker a November 2013 born bull is one of the first sons off our Stock bull Knockoneill Figo, purchased from James Mallon in Derry at only six months old. Dam Cloughbally Colleen by Lawsons Ford Bagatelle has one of the highest priced bull calves each year and this year was no different with King Maker going to a local Dairy farmer at €3,150.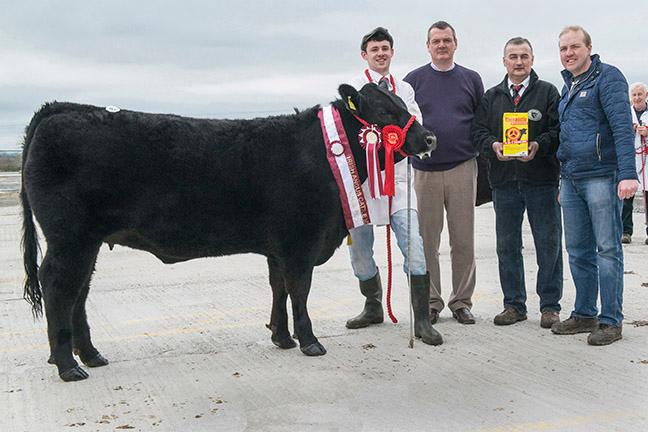 Mercury Lovely Tinge was female champion on the day and by AI sire Friarstown Ideal Pete. Dam is top producing cow Mercury Fab Tinge of the Evening Tinge line and has produced calves which have won a combined total of four National titles. Lovely Tinge failed to meet her reserve on the day.
______________________________
Mercury bulls claim two top spots in Carrick class
Mercury Kiefer and Mercury Kelley two October 13 bulls claimed 1st and 2nd spots in a tough class at the Carrick-on Shannon February bull sales.
Kiefer a Nightingale El Paso son went on to sell for one of the top prices on the day of €4050 to a Roscommon suckler farmer.
While Kelley a Netherallan Peter Pershore son was sold outside the ring at €3250 to a Northern Ireland farmer.
____________________________
Mercury Lovely Tinge continues winning ways for Evening Tinge line.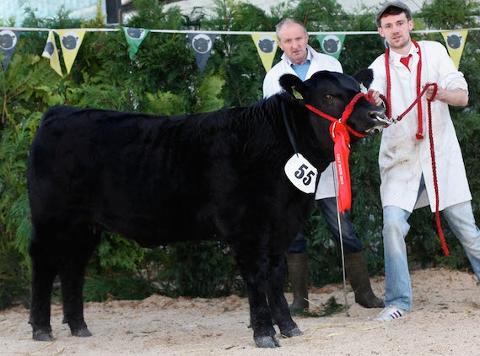 Lovely Tinge collected first prize in the January section of the National calf show held in Tullamore the 11th of October.
The Evening Tinge line has now really made its name at the show, with Mercury Fab Tinge having bred Knight reserve Overall champion last year and Lovely Tinge being first in the female section this year. Lovely Tinge is out of Friarstown Ideal Pete a bull really making a name for himself with the performance of his first batch of calves.
Lovely tinge born on the 5th of January weighed in at an impressive 451kgs on the 20th of September.
________________________________________
Mercury Kiefer claims top spot as Aldi All-Ireland Supreme bull calf champion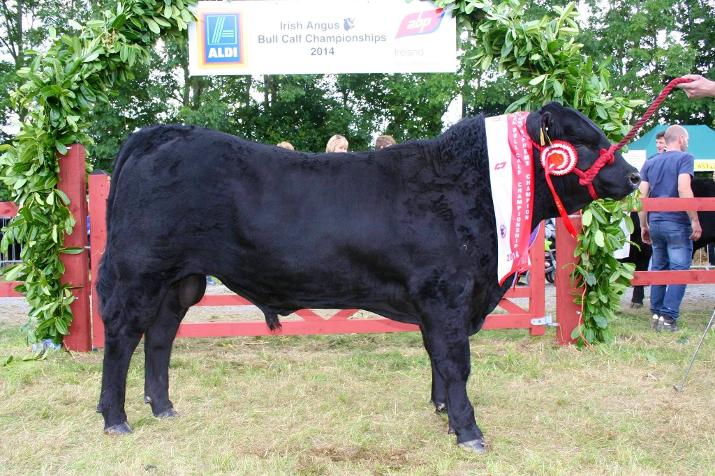 "With €20,500 on offer, Irish Angus breederss converged on Iverk Showground's, Pilltown, Co. Kilkenny on Saturday last with 89 animals, all looking for a share of the richest prizefund in Europe for Angus classes at an Agri-Show.
26 bulls had qualified from various shows across the country and 23 of them arrived in Iverk, all hoping for the pot of gold.
Judge Derek Lovell was so impressed with the quality of the bulls, he requested to hold 14 bulls to go forward for the final shakeup.
With exhibitors from Kerry, Roscommon, Cork, Leitrim and Longford left to battle it out, the tension in the ring was rising, while the huge crowd of spectators were making up their minds as to where the Champion Sash should go.
Eventually Derek selected as Champion Mercury Kiefer, an October born bull by Nightingale El Paso and Friarstown Ellen Erica owned by Shane Murphy, Banteer, Co. Cork."
_____________________
Mercury secure Overall and Reserve Female champions at the Premier Show and Sale Kilmallock April 2014.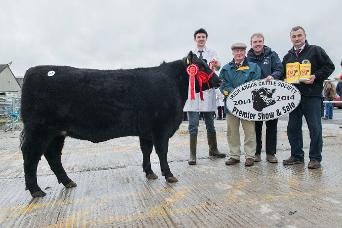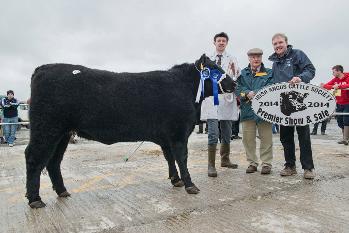 Both sired by our last stockbull Friarstown Idol, Overall Champion Mercury Janet sold on the day to form a new herd in East Limerick. Reserve Overall Mercury Jewel unsold on the day. Idol for us so far out of the 9 animals brought to shows has now left us with 10 red rossetes, 5 Reserve Overall champions and 2 Overall champions.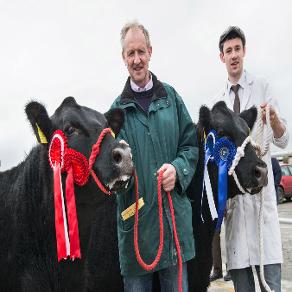 Knight finishes on a high clinching Reserve Overall male at the Elite Show & Sale.
Mercury Knight our show bull of 2013 finished his show career on a high taking the reserve Overall Male Champion at the Elite show & sale in Carrick-on-Shannon in December before being sold for €4000 to Friarstown Stud, Co.KIldare .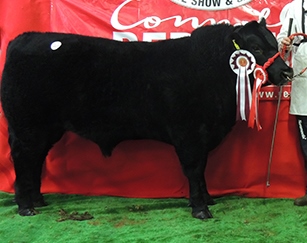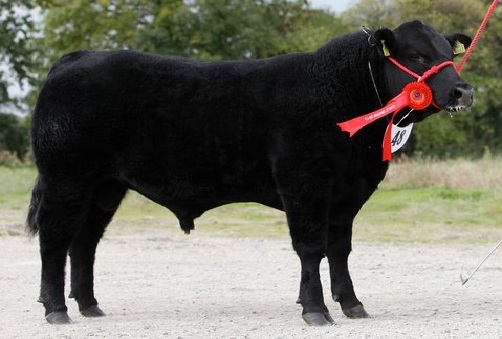 Knight is a super example of the modern Angus. He combines an exciting pedigree with super quality and great performance.
Sire, Friarstown Idol has bred extreamly well for us, siring calves with massive quality and growth rates while still maintaing the easy calving the angus breed is renowned for.
His Dam is from the well known Evening Tinge family line, which already for us has bred Mercury Hunter who was Overall champion and top price at the Premier Sale in Kilmallock 2012, again this was a son of Idol.
Shows:

First and Reserve Overall male Charleville

First at Newmarket, Tullamore and the Aberdeen Angus All-Irelands, Enniskillen

First and Reserve Overall male at the National calf show, Tullamore.

Performance:

39kg birth weight with a gestastion of 281 days.

200 day weight, 406kgs

Weaning weight at 10 months, 638kgs
2013
Mercury Knight
Irish Aberdeen Angus National calf show, 1st and reserve Overall male Champion, Tullamore.
All-Ireland Aberdeen Angus bull calf champion, Fermanagh.
Bull calf champion, Tullamore National livestock show.
1st and Reserve Male champion, Charleville.
January bull calf champion, Millstreet.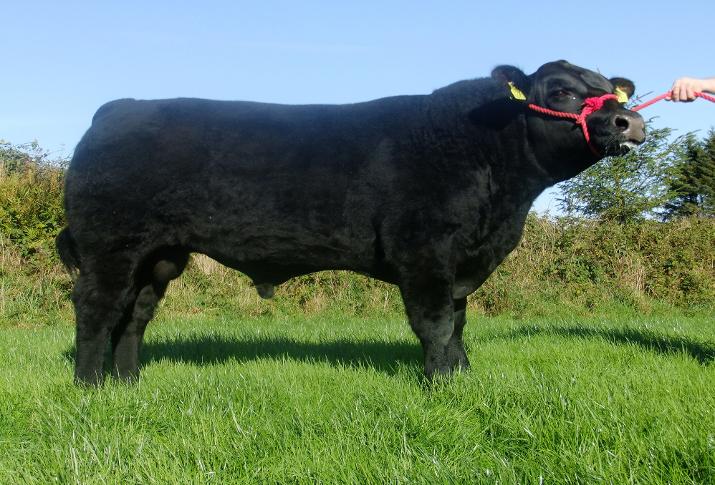 Knight was 39kg's at birth with a gestastion of 281 days. He also hit a staggering 200 day weight of 406kg's. Current weight from 5-10-13 at just over 9 months, 552kgs.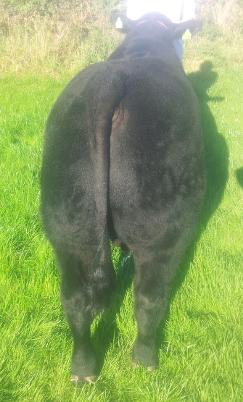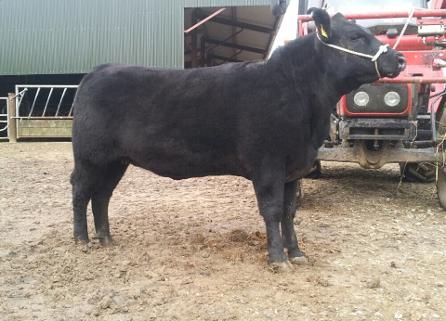 Mercury Hanora week before the sale.
______________________
2012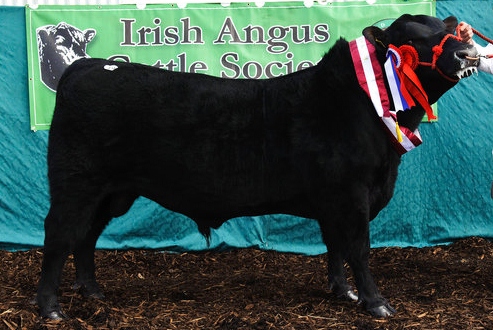 Mercury Hunter
Overall Champion Kilmallock Elite Show and Sale
Hunter was sold to the Kildromin pedigree herd for the top price of €4,600.
Mercury Hunter was one of the first sons out of our junior stock bull Friarstown Idol, a great son by the top Canadian show bull Southland Full Throttle. Idols calves are born easily with excellent growth rates, with Hunter weighing a massive 772kgs at 400 days. Idols full sister, Ideal, was placed reserve overall female Champion at Balmoral show 2011, making it no surprise Idol is breeding such quality stock.
Hunters dam is from the well-known Evening Tinge line, a Cudlobe Millennium daughter herself, going back to Greens Premium and one of the most influential cows in the breed, HF Evening Tinge 14F. His dam also boasts the highest figures in the herd, being 5 stars for all traits with a very high Suckler Beef Value of €92.
Hunter himself stands at 5 stars for Suckler Beef Value, Weaning Export and Daughter Fertility whilst still being 4 stars for Calving Ease. A bull sure to make an impact on the already well-established Kildromin herd.